Champagne from small independent producers, also known as grower-champagne, is continuing to increase in popularity.  With ever improving quality and variety, grower champagne has a real appeal to those who not only appreciate great champagne but really want to savour something special, exciting and a just a little bit different.  
As opposed to the large champagne houses which source grapes from multiple different vineyards, grower champagnes put terroir at the forefront, reflecting their distinctive geography, geology and climate.  In what can be described as artisanal winemaking; their grapes are sourced from single or closely located vineyards around specific villages.
I have been visiting Champagne for the last couple of years and what started as a passing interest has now developed into a hobby and passion for exploring, discovering and ultimately enjoying more of the region's champagnes.
In this blog (this being my first ever blog post) I really want to focus on exploring the Champagne region and in particular the Cote des Blancs area south of Epernay.  Home to a number of Grand Cru villages, the Cote Des Blancs is famous for the quality of its Chardonnay grapes and the finesse, elegance and gentle aromas which they bring.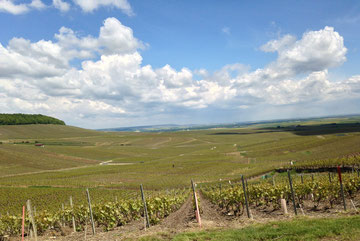 Grower champagne from the Cote des Blancs is exceptional and following a few days spent touring the area last summer I have decided to set myself the task of making this fantastic stuff available online to those of us unfortunate enough to live on the wrong side of the Channel.
 

The champagnes I have tasted from the area have primarily been grower-champagne from Grand Cru villages.  These are villages whose grapes and ultimately the champagne that result from it, are of the highest quality - there are only 17 villages classed as Grand Cru in Champagne and six of them are in the Cotes Des Blancs.
It is going to be a small online effort to start with and progress has at times been frustratingly slow.  That said, our website is nearing completion, logistic and legal hurdles have been surmounted and we (we being my father and I) will soon be receiving out first consignment of champagne.  Within a couple of weeks we will be able to start making our contribution towards raising the awareness and appreciation of Grand Cru grower champagne in the UK.
We have decided on three grower-champagne producers to launch with on our website, Vauvasin, Baradon-Michaudet and Bernard Pertois, from the Cote des Blancs Grand Cru villages of Oger and Les-Mesnil-Sur Oger.  Ultimately we are aiming to offer a wider range of champagnes – I have quite a list of other excellent grower champagnes from these villages as well as the Grand Cru villages of Cramant and Avize – and we will be adding more in the coming months.
In my next post I will be taking a look at the champagnes that we have chosen, what makes them special and a bit of background and history behind the producers themselves.  After all it is the quality, uniqueness and individuality that mark these grower champagnes out from the rest.