---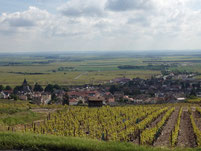 The term 'Terroir' is one of those for which wine enthusiasts have a good feel but find it hard to accurately define. It's the expression or the link the land has with the wine. The silky complexity and array of smoky sensations aroused by a glass of claret or the fresh flinty aromas and lemon blossom of a South African chardonnay plainly communicate  the land of their origin. The producers of wines for whom terroir is key go to great lengths to ensure that whatever else they do, they maintain, respect and exemplify the Terroir of their wine. It's part of what makes it unique.

When you pay a premium price for a bottle of your favourite Champagne you have a good idea what it is going to taste like and you will be mighty upset if it is anything different to what you expected. The skill of the blenders in the major Champagne houses is principally to ensure that standards of consistency of taste are maintained, year on year, no matter what meteorological vicissitudes the harvest may suffer. By judiciously garnering and selecting a wide range of wines the big names maintain their outstanding qualities and generate that mystical fun factor, but simultaneously disassociating themselves from any connection with a particular patch of land.
There are some notable exceptions. For example Krug 'Clos du Mesnil' is from a 1.4ha vineyard in the shadow of the church at Mesnil-sur-Oger and seems to enjoy something of a premium above and beyond normal comprehension
Small Grower producers are keen to exploit the fact that their wines are made from the grapes grown on their land and the result is a wine that invariably stands out as elegant, unique and interwoven with its origins. By all accounts there is an ongoing wrangle as to whether Grower producers may include the name of their village on the label so as to point up this connection. The INAO(the French National Institute for Appellations d'Origines) and the UMC (Union des Maisons de Champagne) which is the association for the larger brands are opposed to the idea.
No doubt the brand managers and product managers in LVMH and Pernod Ricard can see the downside of being unable to use 'Terroir' as a USP. Consumers can however be reassured that quality Grower Champagnes are available which are full of local intrigue and connections at a fraction of the cost of some of the hyped up uber brands. A selection of grand Cru Grower Champagnes are available through Moore Champagne.
---

---