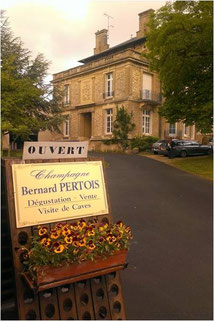 We are on our way to pay a visit to Bernard Pertois Champagne in the village of Le Mesnil sur Oger.  Concerned about the need to have to talk French for the next two hours, I had thankfully fortified myself with a hearty breakfast and a couple of glasses of strong black coffee.
Standing on the corner of rue Charpentier Laurain in the Grand Cru village of Le Mesnil sur Oger, is an imposing family house with an attractive courtyard and garden. The Pertois family has been growing grapes for more than 10 generations and started producing their own Champagne back in 1910. They have 15 hectares of vines of which 7 are Grand Cru Chardonnay.  The only grape used for their Grand Cru Champagne production is Chardonnay with the balance being sold on to other producers including some of the big names in Reims. 
Having parked next to the family Renault we make our way over towards what looks like a small office on the far side of the courtyard. We find Claudine sat behind a reception desk and explain that we have a 10am appointment. She seems to know the score and slips away only to return two minutes later with the current custodian of Bernard Pertois Champagne, Patrice Pertois, all wreathed in smiles and whose sparkling eyes have a hint of fun and merriment. 
His lack of English is laid bare in the first two seconds and I have to engage the French side of my brain and deploy my limited vocabulary in as imaginative manner as possible.


A leather apron and workman's dungarees reinforce the strongly Gallic impression of a hardworking man who knows how to make good Champagne. The conversation starts with gentle discussions about how each other's businesses are going and as ever, no one is making a fortune and we are all just ticking over happily.

Patrice runs a sizable grower Champagne business, producing 35,000 bottles per year and employing 8 staff and up to 60 casual staff for the harvest. His son, a graduate of the Lycee Viticole in Avize, works alongside him.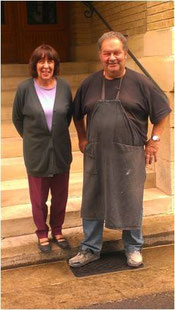 There is a system in place run by the Champagne authorities (the CIVC) which decides in advance of the harvest what the maximum yield will be. Cognac and Champagne are the only areas to employ a quota system for output. They also determine the size of the stock blocke. This is the volume of this year's fermented wine that must not be used. Its purpose is to act as an insurance policy against freak weather events such as a frost in June or a biblical deluge in September. The weather this year has been strange. It was marked by an absence of snow in the winter followed by hardly any frost in the spring. In April there was no rain and the whole month was unusually warm. These benign conditions however were offset by a steady easterly dry wind. Nevertheless it looks as though 2014 will be an above average year.

Patrice utilises the standard Chablis style of plant management in his vineyard. That is to say 2 to 3 bunches of grapes on each branch. 2 branches per plant and a new one for next year. Spraying is conducted every 10 days to prevent mildew, rot and aphids. Patrice is proud of the fact that one of his plots is adjacent to Krug's famous Clos du Mesnil. He describes what has become an annual tradition in that every year a Krug representative comes around and makes him a very generous offer for his land, his vines and his grapes. Every year the offer is turned down.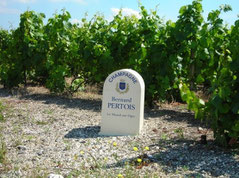 By now my head is spinning with French wine vocabulary, terminology and new found knowledge. A short break to get my notes in order provides the ideal opportunity to taste some of Patrice's excellent Brut Tradition followed by some of his stunning Cuvée Réserve.
 
Pale gold in colour, delicate and smooth, the Brut Tradition is a fine example of 100% Chardonnay Blanc des Blancs Champagne from the Côte de Blancs area of Champagne.  The Cuvée Réserve is a real delight and one of my all time favourites.  Smooth and refined with delicate flowery aromas and a pleasing finish, it is all that great Chardonnay Champagne should be.  Patrice's hard work has really paid off as this understated Champagne clearly demonstrates just what his vines and terroir can produce. Without a doubt it gives his much better known neighbours (and their considerably more expensive product) a real run for their money.


As much as I would wish to quaff glass after glass of this wonderful, elegant and uplifting Champagne the impending drive to our next staging post unfortunately inhibits a full on 'session'.


With several cases bought for my wife and I (and any fortunate visitors) to enjoy over the coming months, it is time to leave. Across the yard an elderly gentleman who we are informed is grandpere, Mr Bernard Pertois, is casting a keen eye over activities and gives us a cheery wave.  Two hours of non-stop conversation in French have flashed past and I am delighted at my ability to recall turns of phrase and expressions which might have been considered lost. It's a strange thing about Champagne. It can loosen tongues and heighten bonhomie without causing that disastrous disconnect between brain and mouth of which other drinks are so guilty.


Moore Champagne specialises in supplying Grand Cru Grower Champagnes and in particular from the Côte des Blancs area of Champagne.  We are proud of offer the full range of Bernard Pertois Champagnes at very reasonable prices through our website at www.moorechampagne.com