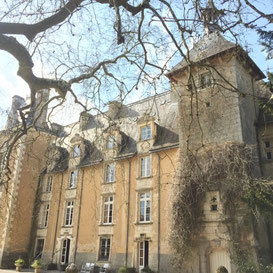 At the invitation of G & T weekends, William and Lydia spent a day or two checking out the Loire Valley before heading off to Poitiers to run a champagne tasting in a chateau.  It might seem to be a case of taking coals to Newcastle doing this sort of thing in France but the offer to showcase our grower champagnes to the clients of gandtweekends was simply too good an entrée to miss. G&T Weekends always ensure that the Saturday night is fast, frantic and full, so the chance to reinvigorate the guests' spirits on a calm Sunday afternoon with several glasses of intriguing champagne was a brilliant plan. The setting was outstandingly impressive and simply spectacular. A fairy tale chateau basking in the early Spring sunshine. The interior rooms were grand and gracious.

The guests embraced the gallic spirit of the afternoon by dressing up in classic French costumes. Marie Antoinnette, Porthous, Athos and Aramis along with the barmaid from 'Allo Allo' were all there.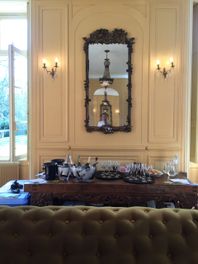 We are well versed at explaining why and how grower champagnes are in fact as good as, if not better and are almost certainly cheaper than the mainstream big names from the industry. We captured the audience with a precis of the fundamentals of champagne production that are behind the unique taste of our products. There is a balance to be struck with any audience. You need to be able to explain how grower champagnes are unique to a patch of land without without being nerdy. You need to be able to describe the David and Goliath scenario of Grower vs  Les Grandes Maisons without sounding like a proselytising anti-globalisation activist. The great advantage is that although you may have a room of people new to the idea of grower champagne to start with by the time they are are on their third or fourth glass they are won over the the distinctive and interesting flavours and aromas on offer.
All went well and there at least twenty or so converts to the cause of championing small family enterprises with a history of making outstanding products from their own land. We hope to work with G & T weekends again in the future.